Dir en grey
AKA
Dir

Diru DEG/D.E.G.

Spelling
ディルアングレイ
Status
major, active

indies (1997.02 - 1999.01.20)

Origin
Osaka
Years
1997.02 - present
Genres
Alternative metal

Doom metal Alternative Rock (early) Gothic/Visual Rock (early) Nu metal (early) Metalcore/Deathcore Technical death metal (later) Experimental metal (later) Progressive metal (later)

Labels
FREE WILL

east/west (1999-2000)

Related
La:Sadies
Website
http://www.direngrey.co.jp/
Fanclub
a knot
Dir en grey is a five-man visual kei metal band formed in 1997. Signed to Firewall Div, a sub-division of Dynamite Tommy's Free-Will record label, the band has released eight full-length studio albums.The band's lineup has remained consistent since its formation, however, the band's sound has become difficult to categorize due to various stylistic changes (though they are generally considered to be an experimental/progressive metal band). 
Originally an alternative metal band, they were known for their dark, grotesque visuals and shocking stage antics, characteristics that would later influence other extreme visual kei acts. As the band matured, however, they have opted for less dramatic attire, while musically and graphically, they have become increasingly progressive, eventually leaning into technical death metal, and scrapped their signature visuals for a stripped-down, rugged appearance similar to western death metal acts, but continued to perform bizarre, often disturbing antics in their music videos and live performances.
Musically, the band's sound revolves around vocalist Kyo's wide vocal range (usually ranging from inhuman growling to melodic singing and high-pitched black metal shrieking), dynamic, low-tuned riffing by Kaoru and Die, and complex rhythms by Toshiya (on bass) and Shinya (on drums) Dir en grey have toured through Asia, South America, Europe, and the United States, with a large international fanbase. They are known to have toured with notable international acts such as Korn, Children of Bodom, and Slayer. The band is regarded as a significant act in the modern heavy metal scene, and one of the better-known visual kei metal bands among the general metal fanbase.
History
1997-1999: Conception, the Missa EP, and Gauze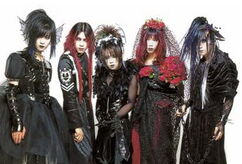 Dir en grey was formed by four of the members of the short-lived band La:Sadie's. Due to leadership issues, the former bass player, Kisaki, parted ways with the band. He was later replaced by Toshiya, and the band adopted a new name, which, according to bandleader and guitarist Kaoru, was chosen because it "sounded right" and composed of words from different languages, so that people will not attach any meaning to it other than the band itself. The band recorded and produced an EP, Missa, that was released on July 25, 1997, marking their debut.
They first broke into the mainstream in 1998 by breaking into the Oricon Top 10 with two independently-produced songs, "Jealous" and "-I'll-". In 1999, the band recorded five singles, produced by X Japan leader Yoshiki Hayashi; the band's debut full-length album, Gauze, followed. Visually, they sported an ecletic fusion of different visual styles, ranging from Lolita kei to Black Kote/Visual Shock and even Eroguro kei. The style has become highly memorable among longtime fans due to its unique image. Musically, the songs recorded in this era usually fell in the lines of alternative metal, experimental rock, and pop rock. Early on, however, the band has recorded a few extreme songs, the most notable being "-Zan-". 
2000-2004: Macabre, Six Ugly, Kisou, and Vulgar
By the turn of he new millennium, the band released their sophomore album, Macabre, however, vocalist Kyo suffered from hearing trouble and had to be hospitalized; several dates for the Macabre promotional tour had to be postponed. The band toured later the same year, and concluded their tour with a performance at the Nippon Budokan, shortly after releasing a single, "Ain't Afraid to Die" in April 2001.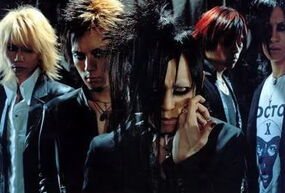 By the turn of the new millennium, the band has opted for more contemporary and western styles, both musically and visually, to appeal to a then-growing international following. Dir en grey recorded and released their third full-length,
Kisou
, on January 2002, and gave their first overseas performances in China, South Korea, and Taiwan. Later that same year, they released their second EP,
Six Ugly
, and the following year, they performed at the Akasaka Blitz. A fanclub-only DVD,
Blitz 5 Days
, was released the same year, and on September 2003, Dir en grey released their seminal fourth album,
Vulgar
. Touring for the new full-length lasted well into 2004. The band's sound experienced a gradual progression into harder forms of metal, a departure from the experimental/indie rock sound of early releases. Beginning with
Six Ugly
, the band displayed a more contemporary metal sound and image to appeal to an international audience. With the release of
Vulgar
, their sound eventually incorporated mathcore and nu metal elements, traits that would be carried over in subsequent releases.
2005-2006: Early non-Asian touring and Withering to Death
Dir en grey performed in Europe for the first time in 2005, with some of their concerts from their It Withers and Withers tour becoming sold out without promotion other than Internet-based word of mouth. The band also performed at Rock am Ring and Rock im Park. On that same year, they released their first European release, Withering to Death, and hit their first non-Asian chart position on the Finnish charts at No. 31. Their subsequent single, "Clever Sleazoid", reached No. 15 on the same charts. In 2006, Dir en grey hit U.S. shores for the very first time, performing in Austin, Texas, New York City, and Los Angeles, California. All shows sold out within days. After more international performances, Kyo was hospitalized due to inflamed vocal cords. However, the band was still able to participate in Korn's Family Values tour. In October, they went back to Japan to participate in the Loudpark festival, along with several high-profile international acts: Megadeth, Slayer and Children of Bodom. "Agitated Screams of Maggots", their 22nd single, was released on November 15, and the music video for "Saku" was voted No. 1 on the MTV2 show Headbanger's Ball. This era also marked the period where the band started abandoning their traditional style in favor of an unorthodox, stripped-down and casual approach to their Visual kei image. While this has evoked mixed reactions among the fanbase, the change mirrored their shift into heavier, more technical music. 
2007–2009: The Marrow of a Bone and Uroboros
In February, Dir En Grey went on its first North American headlining tour, visiting sixteen cities, while its sixth full-length album The Marrow of a Bone was released on February 7 in Japan and in the United States and Europe in the following months. From May to July, the group opened for Deftones on their United States tour, and afterwards did another European tour, which included their debut shows in Denmark, Finland, Poland, Sweden, and the United Kingdom, as well as several festival performances across the continent, including Ankkarock, M'era Luna Festival and Wacken Open Air. The group went on another international tour in September, titled after their most recent single "Dozing Green", beginning in Japan, and continuing in Europe, including their first performance in the Netherlands and Switzerland. In late November, Dir En Grey opened two shows for Linkin Park at Saitama Super Arena and in December performed another Japan tour with 10 Years as support act. Commemorating Dir En Grey's tenth anniversary as a band, two greatest hits compilations, titled Decade 1998–2002 and Decade 2003–2007 respectively, were released on December 19.
At the beginning of 2008, Dir En Grey announced plans to begin recording a new studio album. Their first touring of the year, in May, was another Japan tour with a conclusion of three shows at Shinkiba Studio Coast, titled Death over Blindness. Between touring, Dir En Grey performed at one night of the two-night hide memorial summit on May 4, alongside X Japan, Luna Sea, and others. A second Japanese tour, titled Tour 08 The Rose Trims Again began September 10 the same day as the release of their single "Glass Skin". On August 1, Dir En Grey announced the release of their seventh studio album, Uroboros, which was released on November 11, 2008 in the United States. The band also toured the United States and Canada in support of the album, with dates scheduled for November and December (overlapping the release of Uroboros) with opening act The Human Abstract.
More touring that fall included a series of four shows titled Bajra, two being fan-club exclusive, and a single show on December 29, under the moniker Uroboros -Breathing-, at the famous Osaka-jo Hall where Dir En Grey had not performed since December 18, 1999 (as seen on 1999.12.18 Osakajo Hall). Beginning in 2009, Dir En Grey made their first thorough tour of the United Kingdom and Ireland with Kerrang!'s "Relentless Tour '09" alongside Mindless Self Indulgence, Bring Me the Horizon, Black Tide and In Case of Fire. In February, the band announced the public release of the live DVD, Tour 08 The Rose Trims Again, as well as switching European record labels to the newly founded Okami Records, a sister label of their former European representation, Gan-Shin. During spring of 2009, the band began to fully promote Uroboros with a series of nationwide tours, under the title Tour 09 Feast of V Senses. The tour was interrupted briefly while in Sapporo and Sendai, with an announcement on the band's official website, explaining that Kyo had been diagnosed with edema of the larynx, and would require the postponement of three shows, which were rescheduled for early May.
Dir En Grey continued their Feast of V Senses tour in Europe, with a mixture of festival performances, headlining shows, and one co-headlining show with Killswitch Engage. The festival performances included their third appearances at Rock am Ring and Rock im Park, as well as their initial concerts at Download Festival, Nova Rock and Metaltown. Among the headlining shows, Dir En Grey were also making debut concerts in Italy and the Czech Republic. After several shows of their late-summer tour, All Visible Things, Dir En Grey announced their next single for December, "Hageshisa to, Kono Mune no Naka de Karamitsuita Shakunetsu no Yami", as well as a North American and South American tour also under the title All Visible Things. Their new single was released on December 2, 2009 and reached number 2 on the Oricon Weekly Chart: the highest position to date for the band. Their 2009 tour season ended with a 3 live tour titled Dorje. They finally ended their long Uroboros centered tour by doing 2 back to back performances at the Nippon Budokan, titled, Uroboros –with the proof in the name of living…- where tickets sold out in 15 minutes.
2010–present: Dum Spiro Spero and The Unraveling
It was announced on April 7, 2010, that the band would be returning to the United Kingdom in August on the lineup for the Sonisphere Festival in Knebworth, playing on a bill being headlined by Iron Maiden and Rammstein. According to the festival website, this will be their only UK festival performance this year.
Regarding the announcement, Kaoru (on the Sonisphere UK website) is quoted as saying "I'd never have thought that we would play a festival of this caliber! It is like a dream come true to be playing with such great bands at Sonisphere. Although we're not back in the UK for a tour, we wanted to play this festival to give something back to the fans who were disappointed last year from our cancelled finale in London. We were really bummed ourselves to not play and are looking forward to playing a great show for all our fans. We'll also think up something special for this show as a way to show them our appreciation for waiting for us to come back. As at any festival, we are excited about playing for people who have never seen us before, and I hope they will be able to enjoy our show with our unique stage performance. It'll be something they've never seen before! It will be absolutely rewarding for us if they simply enjoy our performance."
It was announced on April 28, 2010, that Dir En Grey would be playing an exclusive club date at London's Koko venue on August 3, 2010 as part of The Unwavering Fact of Tomorrow Tour 2010. Dir En Grey announced later on, that they also will do their debut performances in Russia by adding one show in Moscow at Tochka Club on August 5 and one show in St Petersburg at Glav Club on August 6. Dir en grey also toured North America on a co-headlining tour with the Finnish band Apocalyptica with a special guest of Kyo interpreting the song "Bring Them to Light", one of the tracks of the cello-metalers latest record. In September 2010, the band confirmed in an interview with Kerrang! magazine that they were in the process of writing new material for the follow-up to Uroboros.
As well as appearing on the soundtrack of the American movie Saw 3D with their single, "Hageshisa to, Kono Mune no Naka de Karamitsuita Shakunetsu no Yami", they also participated in Romantist - The Stalin, Michiro Endo Tribute Album which is a tribute album celebrating the 60th birthday of The Stalin's frontman Michiro Endo, which was released on December 1, 2010. The album also featured bands such as BUCK-TICK, Group Tamashii, MERRY, Jun Togawa and Wagdug Futuristic Unity.
The single "Lotus" was released on January 26, 2011, along with a new fan-club only tour named The Decomposition of the Moon, scheduled to run from May 14 to May 26. The band released "Different Sense" on June 22. Their eighth studio album, Dum Spiro Spero, was released on August 3. Material from this album was showcased on the band's South and North American tour Age Quod Agis in November and December 2011. In February 2012, following a doctor's visit, vocalist Kyo was diagnosed with vocal nodule dysphonia, leading to Dir en grey pulling out of the North American The Still Reckless Tour, consisting of Asking Alexandria, Trivium, Motionless in White, and I See Stars, as well as the cancellation of their own remaining Japanese headlining shows. Although Kyo has been hospitalized before in 2006 and 2009 for vocal inflammation, he has not required surgery until now.
On August 14, 2012, Dir En Grey won the Extreme Metal Olympics organized by Loudwire.com, beating Death in the final. The band released the single "Rinkaku" in December 19 after their one year and a half hiatus since their last single release. Also, a tour titled In Situ began on December 25 in Tokyo. On April 3, 2013, they released their third EP, titled The Unraveling, with one new song and six rerecorded songs. Just a couple of days later, on April 5, the band started their supporting tour Tabula Rasa for the new EP. In June 2013, the band participated in a short European tour. In September 2013, the band started their Ghoul tour, which will run from September 18 until October 23 in Japan and will pick back up on November 3 in North America. The band also announced two back-to-back shows at the Nippon Budokan for March 2014 titled "DUM SPIRO SPERO" along with a new single, "Sustain the Untruth" which is slated for January 2014.
Lineup
京 (Kyo)
Vocals

Gesshoku → Puyo Puyo → Visun → Masquerade → La:Sadie's → DIR EN GREY → DIR EN GREY, Sukekiyo
Die
Guitar

ka・za・ri → La:Sadie's → DIR EN GREY → DIR EN GREY, DECAYS
Toshiya
Bass

GOSICK → MONALIZA → D+L → DIR EN GREY
Shinya
Drums

Siva → Ruby → La:Sadie's → DIR EN GREY
Discography
VHS/DVD
1998.01.15 「楓」~if trans・・・~ (Kaede)
1998.10.07 妄想統覚劇 (Mōsō tōkkugeki)
1998.10.07 妄想格外劇 (Mōsō kakugaigeki)
1999.11.17 GAUZE-62045-
2000.02.16 本当にこれでいいんですね。ハイ。あなたは何人目ですか。一人目です。僕は数え切れない子供を殺しています。あなたは許せますか・・・・・もう一度聞きます。本当にこれでいいんですね。ハイ。用意はいいですか。ハイ。では始めましょう (Hontō ni kore de iin desu ne. Hai. Anata wa naninnme desu ka. Hitorime desu. Boku wa kazoekirenai kodomo o koroshiteimasu. Anata wa yurusemasu ka...mou ichido kikimasu. Hontō ni kore de inn deu ne. Hai. Yōi wa ii desu ka. Hai. Dewa hajimemashō)
2001.08.22 TOUR 00-01 MACABRE
2002.03.30 鬼門 (Kimon)
2003.05.21 列島激震行脚 FINAL 2003 5 Ugly KINGDOM (Rettō gekishin angya)
2004.10.06 TOUR04 THE CODE OF VULGARism
2005.06.29 AVERAGE FURY
2005.07.27 AVERAGE PSYCHO
2006.05.03 TOUR05 It Withers and Withers
2009.02.04 A KNOT OF
2009.04.29 TOUR08 THE ROSE TRIMS AGAIN
2009.10.28 AVERAGE BLASPHEMY
2015.04.01 AVERAGE SORROW
Demo Tape
Books
1999.?? Dir en greyやろうぜ
2000.?? 視覚[a dead dangle]
2001.01 MACABRE (score book)
2001.03 GAUZE (score book)
2002.05 鬼葬 (score book)
2002.08 ××
2002.08 DRAGON FLY
2003.12 我
2005.01 six Ugly (score book)
2005.01 VULGAR (score book)
2005.01 THE MANIPULATED LIFE
2006.?? Dir en greyやろうぜ SPECIAL
2009.03 SHANKARA
2010.?? WITHERING TO DEATH (score book)
2010.?? THE MARROW OF A BONE (score book)
2012.10.?? MINERVA -RINKAKU-
External Links
Community content is available under
CC-BY-SA
unless otherwise noted.