杙凪-KUINA-
Profile
Aliases
杙凪 (Kuina)
Date of birth
July 5, 1991
Bloodtype
AB
Activity
Years active
2008~present
Current band
Royz
Occupation
guitarist, bassist
Instruments
guitar, bass
Website
Blog (Celestial Garden)
Kuina
(杙凪) is the guitarist of
Royz
. He joined the band in 2010. Prior to joining Royz, Kuina was a member of Celestial Garden.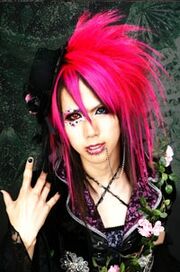 Band history
Profile
Name: Kuina
Part: Guitar
Birthday: July 5th. 1991 (26)
Bloodtype: AB
Height: 169cm
Likes: LordCamelot, LoreeRodkin, RoyalOrder
Favorite Color: Purple
Trivia
He has over 20 piercings
He has huge wings tattood on his back
He has an older brother, and younger brother
He has a cat
He likes Vocaloid
He'd like to live in London
His favorite halloween costume is a black witch
His favorite Halloween movie or song is "Jack the Ripper"
When he was a kid, He'd often go to the arcade.
He likes the anime Lucky Star, and his favorite character is Minami
Discography
Albums
Singles
with Celestial Garden
2009.07.01 Celesten Chevalier
with Royz
2010.02.14 Toumei na Yuki (トウメイナユキ)
2010.04.29 Haru no Yoru no Yume / Koi Hanabi (春ノ夜ノ夢 / 恋花火)
2010.10.06 『AREA』
2011.04.09 e:ver
2011.08.17 α
2012.03.07 NOAH
2012.06.27 Starry HEAVEN
2012.10.24 INNOCENCE
2013.07.03 EGOIST
2014.01.15 LILIA
• 2014.07.02 CORE
• 2014.12.10 Super Nova
• 2015.05.06 O Início
•2016.04.06 S.I.V.A
• 2016.11.16 Antítesis Blog oficial
2017.11.08 ANTHEM
2018.03.21 World is mine
2019.4.7 Ignite
Community content is available under
CC-BY-SA
unless otherwise noted.