MORRIGAN
AKA
MORRIGAN (2015-present)
XIBALBA (2009-2014)
Spelling
モリガン (MORRIGAN)
シバルバ (XIBALBA)
Status
indies, active
Origin
Sendai
Years
2015-present (as MORRIGAN)
2009-2014 (as XIBALBA)
Genres
Rock
Labels
Timely Records (2015-present)
KN-MUSIC (2014)
Website
New OHP (MORRIGAN)
Old OHP (XIBALBA)
MORRIGAN are a visual kei band, formed in 2015. They debuted at their presents live at Sendai darwin コープス・リバイバー, starting on June 14, 2015.
The band was formed by former members of XIBALBA, which was formed in 2009 and disbanded on December 25, 2014.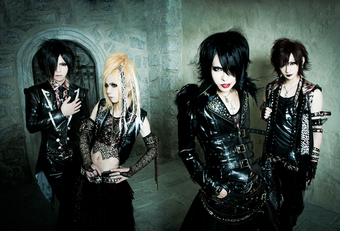 Lineup
ARYU - Vocals
→ XIBALBA → MORRIGAN
SHIROSAKI→Kuloe - Bass
→ XIBALBA → MORRIGAN
TACHIBANA→Setsuna - Drums (2010.04.01-present)
→ XIBALBA → MORRIGAN
Former members
TAKUMA - Guitar (2009-2011.12.01)
→ XIBALBA →
Past members
URAKEN→Pitty - Guitar
→ XIBALBA → MORRIGAN
Discography
Albums
Singles
as XIBALBA
2010.07.28 終末の世界に鳴り響くレクイエム
2011.07.01 BLACK DAWN
2012.06.06 the guilty party
2013.01.30 Goetia
2014.03.31 LILITH (live-limited)
2014.05.14 RE:BORN
as MORRIGAN
2015.08.24 6PAン6D終ラ6-X (live-limited)
Compilation albums
2014.11.05-12.24 XIBALBA (webshop-limited)
Demo tapes
DVDs
Omnibus albums
Community content is available under
CC-BY-SA
unless otherwise noted.