オトイロハ (otoiroha) were a visual kei band, formed from the ashes of Ray℃ in 2014. They debuted at Shibuya-REX on August 20, 2014. They would later disband on May 30, 2015, after their live at the same venue.
Ray℃ & disbandment of Otoiroha
Ray℃ was a short-lived visual kei band formed in 2012. They announced they would stop activities in July 2014, due to the dissolution of their label, VisualShock.JP. As a result, the release of their latest single, Dream the future / eternite, has been cancelled. On June 28, it was announced that the former members of the band had formed a new unit, オトイロハ.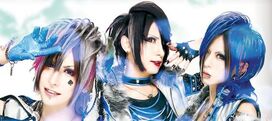 Guitarist Bitoya and support drummer Rem departed from the band after their live at Shibuya REX on March 31, 2015. The band would later disband only a couple of months later on May 30. The remaining members, Aiku and Naoya, would later form the project,
-真天地開闢集団-ジグザグ
, which has a much darker concept; not long after, Bitoya followed along once more and joined this band.
Lineup
大空 (daisuke)→ 愛玖 (aiku) → 佐々木愛玖 (sasaki aiku) - Vocals
→ Ray℃ → オトイロハ → -真天地開闢集団-ジグザグ
仍夜 (naoya) → 高原直也 (takahara naoya) - Bass
→ Ray℃ → オトイロハ → -真天地開闢集団-ジグザグ
Former members
Charlie - Drums
→ Ray℃ →
Vuit → Bitoya - Guitar (2012-2015.03.31)
→ Ray℃ → オトイロハ → -真天地開闢集団-ジグザグ
Discography
Singles
As Ray℃
2014.05.14 『木ノ葉/夢猫-ムビョウ-』
As オトイロハ
2014.09.03 ナガレボシ(nagareboshi)
2014.12.03 てるてるちゃん(teruteruchan)
References
Community content is available under
CC-BY-SA
unless otherwise noted.